What is it?
Precision Systems' Power-Pacs are the answer for dependable standby power in outdoor environments. These turn key packages arrive fully assembled and factory tested. Precision Systems uses various enclosures for our Power-Pacs. Most of our smaller units feature our single piece molded fiberglass enclosure that is both low cost and easy on maintenance. Our larger units are housed in custom modular style buildings. The benefits of the enclosure for the equipment are numerous and include: increased reliability, greater life expectancy, and easier routine maintenance.
Engine Generator Set
Automatic Transfer Switch
DC Safety Controls
AC Meters
Output Circuit Breaker
Low Profile Double Walled Fuel Tank (Diesel)
GFI Convenience Outlet
Engine Coolant Heater
Prepiped Insulated Exhaust
Prepiped Fuel System
Time Delays
Battery Charger
Epoxy Coated Steel Base
Fixed or Motorized Louvers
Residential Silencer
Stainless Steel Exhaust Flex
Gas Lift Assists (Tip Up)
Cylinder Safety Lock (Tip Up)
Light(s)
SCADA Panel
Sound Attenuating Enclosure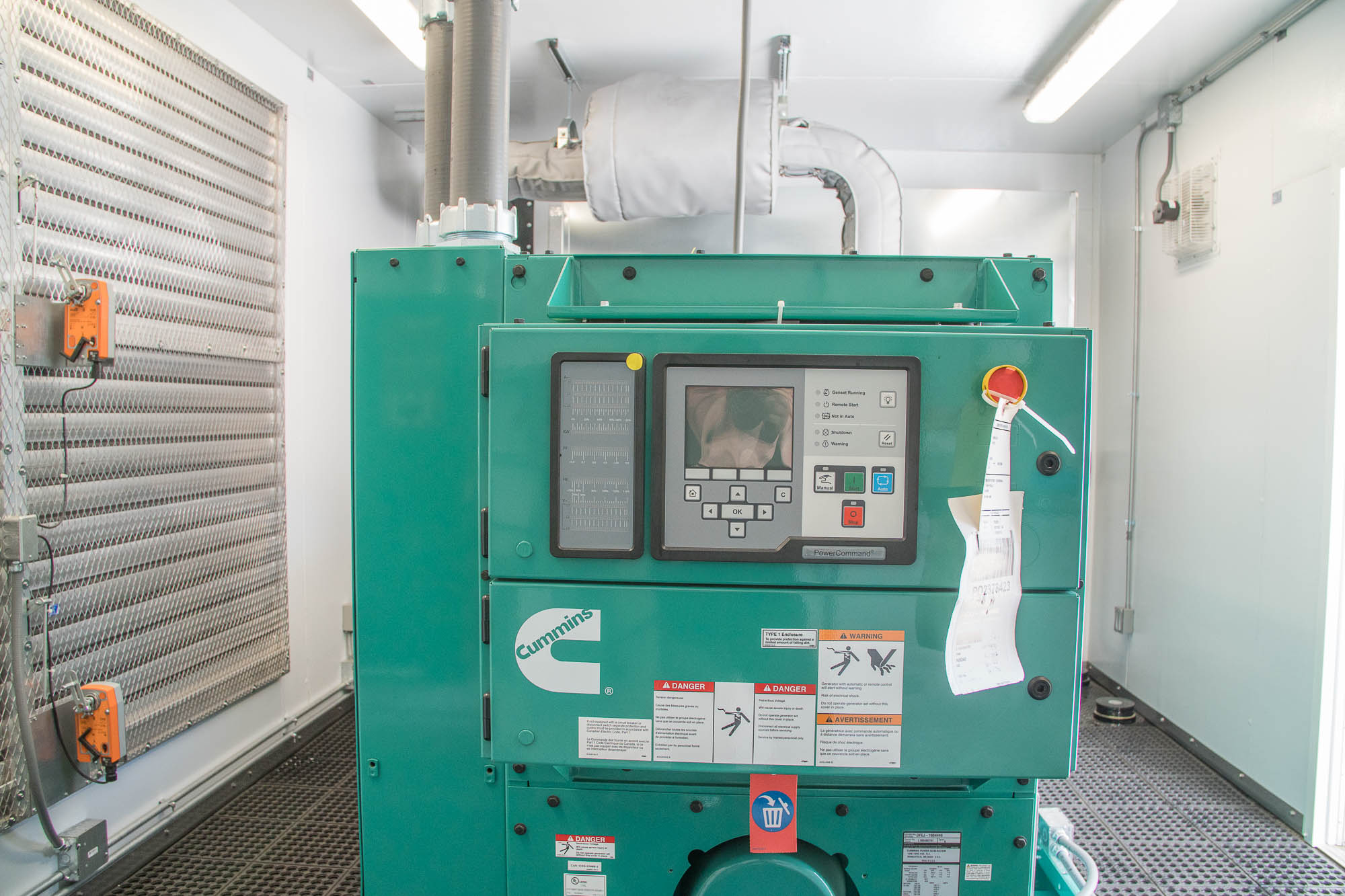 Automatic Fuel Fill Shut-off
External Fuel Gauge
Telephone Dialer
Exterior Flashing Alarm Light
Critical Exhaust Silencer
Insulated Internal Exhaust
Mounting of Customer Equipment
Supplemental Sound Attenuation
Generator Sizing
We would be happy to size your generator for you. We will need some basic information from you which you can provide to us either by printing and emailing the Power-Pac Sizing Form or by filling in the electronic form which will be emailed to us immediately. This form is at Electronic Sizing Form.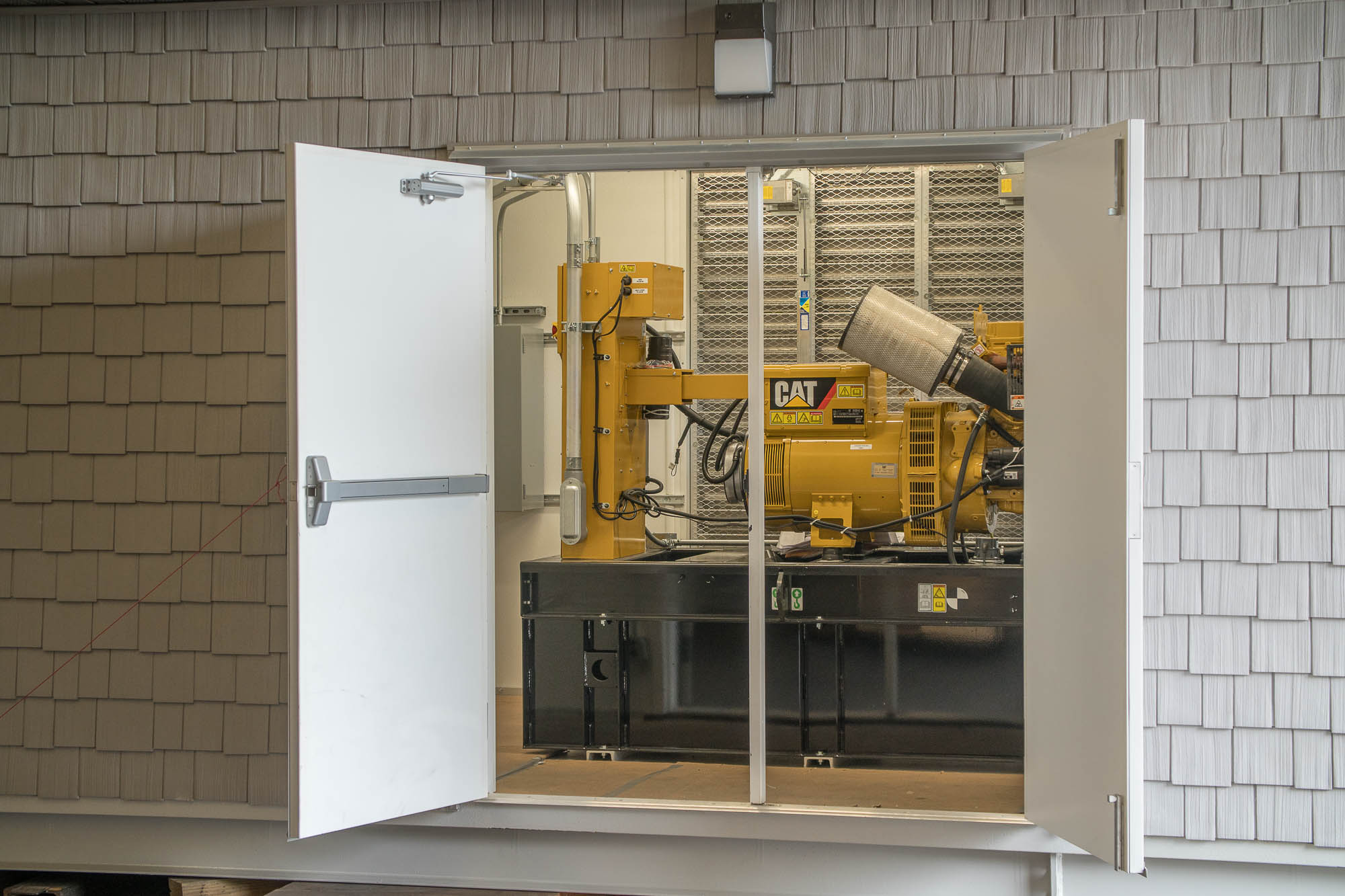 What styles are available?
The Tip-Up Power-Pac, photo on left, is our most cost effective package. Opening of the enclosure is assisted with gas charge lift assists making access to the generator and transfer switch simple and quick. Units range in size from approximately 20 KW to 150 KW. The fiberglass enclosure provides excellent sound attenuation of the engine noise and requires little maintenance.
The Partial-Bury Power-Pac shown here is our lowest profile package. The unit is buried 4 ft. in the ground allowing operators to enter the unit and preform all necessary maintenance in a warm dry environment that they can stand up and walk around in normally. Ideal for sound attenuation or aesthetically challenged areas, the Partial-Bury Power-Pac was designed with residential applications in mind.
The Walk-In Power-Pac is used for the largest applications. Our Walk-in style enclosures can typically house up to a 1,000 kW size generator. Customers can choose single piece molded fiberglass or fully custom modular style building where all of the finishes can be selected per project requirements.